Career Mitra – Career Assessment Test (11th - 12th Std.)
A psychometric tool that assesses your interest in 7 fields, your aptitudes in 4 areas, and guides you to make an informed career choice.
7 Interest fields and 4 Aptitudes

Available in English, Hindi, and Marathi

Approximately 1. 5 hr

14-page report
Rs 300 Rs 499
( inclusive of gst )
Take an informed step towards your career
As we step into our late teens, we become more and more independent by making decisions about our life. But, along with this comes the big question – what next? Thinking about the future can be intimidating with so many career options and so much competition. But what if our worries of not making the right choice after 12th Standard could be put to rest?
This test will help you come to an informed decision, so that you can confidently choose your career pathway.
About the Test
This test includes an Interest test with 140 statements and a timed Aptitude test.
Interest fields:
Agriculture
Arts
Commerce
Fine Arts
Health & Life Sciences
Technical
Uniformed Services
Aptitudes assessed:
Verbal
Logical Reasoning
Spatial
Numerical
Why should you take this Test?
A majority of students today make career decisions based on:
Popularity of a stream
Earning 'potential'
Parent and Peer pressure
Lack of awareness regarding opportunities
Today, the possibility of success is no longer dependent on the 'field'. It is dependent on the student's interest, aptitude and opportunities around him/her. This test will help you discover your interests, assess your aptitudes and guide you to the opportunities available to you after 12th Standard.
What is included in the report?
Your Interest Test scores
Information about each Interest Field
Assessment of your Aptitudes and how to improve them
The Aptitude required to excel in each Interest Field
Higher education options after 10th Standard to help you take the next step
Tips to make an informed career choice
You might also like -
Teen Talk
The teenage brain works differently! Understand, empathise & communicate with your teenage children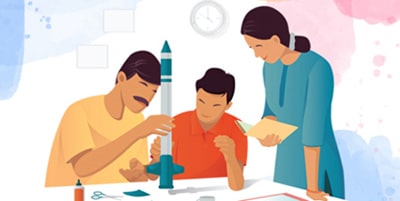 Become Your Child's Career Buddy!
Your Child's Career Planning Is Most Important Role Of Parenting. Get Equipped And Partner Effectively.
Aptitude & Interest Test For Students
Over 1 crore students have made informed career choices with this test. discover your interests & aptitudes and embark on your career journey.