Become Your Child's Career Buddy!
Partnering in your child's Career planning is the most important role of parenting. Get equipped and become their Career Buddy!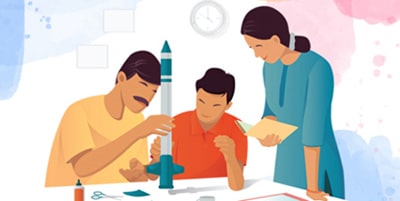 Available In English, हिंदी & मराठी

Engaging animated videos

Interactive activities

Includes Certification
Rs 1,499 Rs 2,499
( inclusive of gst )
Excited to know what you will learn?
Career Planning for your children is a continuous process and not a one-time event or choice to be made in grade 10th or 12th. With the changing landscape of careers, it is very important for the parents to partner with their children to make informed career choices and enjoy this journey together.
Through this 3 hour course, you will learn more about the various fields of careers and the education opportunities available in each field and create a personal vision board to plan your child's career journey. You will also learn about your child's interest and aptitudes with the help of a free career assessment.
Most importantly, you will become a career buddy to your children on their path to happiness and success.
Why do this course?
Parents, teachers, and mentors are the most well-meaning adults in the life of the child. However, their career pathways have been very different from those of the children; due to the complexities of the 21st century. Imagine a situation where the parents are equipped with the right tools to navigate the career pathways of the child as early as grade 8th and can partner with their children like Career Buddies. Since every child is unique and born with immense potential, the role of a parent in helping the child to optimize their potential will be facilitated by this course.
So a big welcome to parents, teachers, mentors, and everyone who works with this age group.
Course Modules
Career: a process and not a one-time event.
Career magic framework: A tool for career planning
Understanding 7 broad fields of Career Interests
Matching Interests and Aptitudes to Education opportunities
SWOT Analysis
SMART Goal Setting and planning
Career Vision board
Time Management tools
Role of Positive Stress
Features
Duration: 3 hours
Language: English
30 days access from when you start the course
Animated videos
Activities
MCQs
Downloadable resources
Reference material
Easy to administer and monitor for large organizations as well
Experts
Dr. Shirisha Sathe
Dr. Sathe is a renowned counsellor who believes that therapeutic intervention should be brief, precise, and effective. Her focus is always on reaching to the bottom of any issue and resolving it by passing agency to the client so that they can meaningfully steer their lives. A medical doctor with a Master's in Clinical Psychology, she strikes a golden balance in physiological and behavioral neuroscience and psychology. Alongside a special focus on adolescent issues, she has been working on issues like addiction, domestic violence, marital and premarital counseling. She is also a consultant to many organizations and NGOs.
Sheetal Bapat
Co- founder of SAF India, working for the cause of 'Right to Right Education' with a reach of more than 1 Cr. students across 5 states for career guidance and life skills, in service teacher training for more than 40,000 teachers. Bringing in her rich corporate and even richer parenting experience of more than 20 years to mentor youth and parents.
Dr. Shreeram Geet
Popularly addressed as 'Pitamah Bhishma' in the field of career counselling, having witnessed the changing career landscape for over 40 years. Dr. Shriram Geet is currently guiding almost the 3rd generation of career aspirants with equal relevance and precision.
You might also like -
Teen Talk
The teenage brain works differently! Understand, empathise & communicate with your teenage children
Aptitude & Interest Test For Students
Over 1 crore students have made informed career choices with this test. discover your interests & aptitudes and embark on your career journey.