Understanding Childhood Temperament (Age 0-3 Years) - By Dr. Bhooshan Shukla
Are you curious to know your child's temperament? Get equipped and nurture effectively.
Available In English & मराठी
Expert guidance videos
Temperament Test & Report
Certificate
Rs 599 Rs 999
( inclusive of gst )
Excited to know what you will learn?
As parents, we often listen to various instructions on the upbringing of children. How to treat them, how to teach them, how to behave with them, so that it lays a good foundation stone for the entire life of a child. Parents are constantly stressed and in helpless situations when it comes to managing children. The behavior of young children is complex, observing patience and often confusing about exactly what is happening and what they want.
Parents' are always puzzled with questions on the behavior of their child. Going forward, will he/she behave in the same way? How should we respond to them? How to deal with the children and how to communicate with them effectively? So, Dear parents sit back and relax, as this course will answer all your questions.
Course Modules
Introduction
Component of Temperament
Temperament Rating Scale
Fun activity
Types of Temperament
How to Respond to a Child with a Particular Temperament
References
Features
Duration: 1 hour
Language: English
30 days access from when you start the course
Expert guidance videos
Test & report
Fun Activity for Parents

Reference material
Easy to administer and monitor for organizations as well those who work with children
Experts
Dr. Bhooshan Shukla
M.D (Psychiatry), D.N.B (Psychiatry), MRCPsych(London), Medical Diploma in Hypnosis(London) Dr. Shukla is a practicing Child & Adolescent Psychiatrist and a Corporate Speaker since 1999. He conducts workshops for groups of motivated individuals and organizations on various topics like -Parenting in Modern Times, How to conduct a helpful conversation, Mental Health and mental health first aid for Managers, Self Hypnosis for Personal Growth and Habits, Motivation Training - How to help people own up growth agenda. His passion and proficiency lie is in his work with motivated families to achieve happiness with each other and to help each other achieve their full potential.
You might also like -
Teen Talk
The teenage brain works differently! Understand, empathise & communicate with your teenage children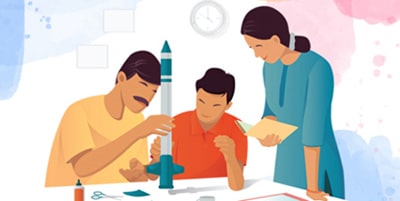 Become Your Child's Career Buddy!
Your Child's Career Planning Is Most Important Role Of Parenting. Get Equipped And Partner Effectively.
Aptitude & Interest Test For Students
Over 1 crore students have made informed career choices with this test. discover your interests & aptitudes and embark on your career journey.